Each day we will have rides, crafts, games, and more! Our summer camp is focused on teaching riders of all levels how to grow and improve their horsemanship and basic horse care skill and knowledge. We are planning on having a farrier, veterinarian, and equine chiropractor come out to talk to our campers about their respective fields and show them a little bit of what they do. In addition to educational opportunities, we are going to have water balloon fights and ice cream parties to keep the traditional camp spirit alive!
Sign Up Below!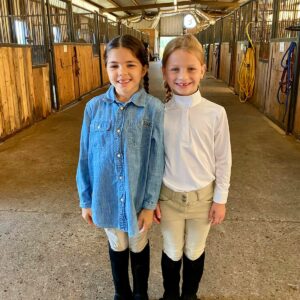 June 6th to 9th
9 AM to 2 PM

June 20th to 23rd
9 AM to 2 PM

July 11th to 14th
9 AM to 2 PM

July 18th to 21st
9 AM to 2 PM
Frequently Asked Questions
How Much is Camp?
Camp is $700 per participant with a nonrefundable deposit that goes towards the overall cost of camp. We are offering an Early Bird discount of $650 if you register by May 1st. We accept cash, check, card and wire transfer payments.
Who Is Camp For?
Our camps are designed for 7 to 15 year olds interested in learning more about english style horseback riding. We love to work with riders of varying skill levels from beginner to advanced.
What Should I Bring?
Bagged lunch
Water
Change of clothes
Sunscreen
Any allergy medication, etc.
"My daughter loved summer camp last year and we look forward to bringing her back again. It is a great opportunity for her to make friends and do the things she loved."
– Happy Client